Heroes of Legionwood
A downloadable game for Windows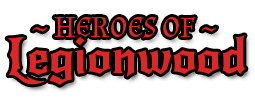 Heroes of Legionwood is a post-apocalyptic fantasy RPG in set in a realm on the brink of annihilation. Combining elements of modern western RPGs with the style and presentation of a classic JRPG, this is a journey no self respecting role player should miss!
It has been 100 years since the world ended. Human civilization has been devastated by a malevolent force known only as the Darkness and only the last
remnants of humanity remain. Playing the role of Locke, a young
adventurer determined to save his people, you'll discover a world where
your choices have consequences and every victory comes with a price. Can
you discover the origin of the Darkness and stop it once and for all,
or will you succumb to its influence, dooming Legionwood to destruction?
Heroes of Legionwood is an RPG that consists of three separate arcs: Age of Darkness, Resurrection and End of Days. Either installment can be played on its own, but all three of them will combine to form one epic adventure.

Features
Play as a male or female protagonist, with unique romance options.
No cliffhangers! Each episode tells a complete story arc.
Deep character customization with dozens of skills and talents to master.
Strategic turn based combat with three different difficulty levels.
Dynamic and expressive companions who react to your decisions.
Skill checks, dice rolls and dialogue options - tabletop style!
Branching choices with far reaching consequences and multiple endings.
Purchase
In order to download this game you must purchase it at or above the minimum price of $18.87 USD. You will get access to the following files:
Heroes of Legionwood - Episode 1
227 MB
Heroes of Legionwood - Episode 2
292 MB
Heroes of Legionwood - Episode 3
377 MB
Character Building Guide (PDF)
157 kB
Download demo